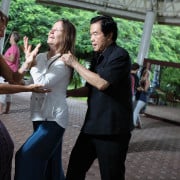 The Innovating Lab team has been helping us to increase traffic and conversions. The quality and quantity of good leads increases steadily every month. With them I know that things are handled.
Wordpress Responsive Website
There was no one central site to display Master Chia and his teachings. We undertook the project of raising the bar by creating a modern responsive WordPress site that was optimized, had calendars and events and was a natural landing page to support local and international retreat registration.
Infusionsoft and Ontraport Implementation
Moving from a simple email sending account we implemented Infusionsoft and the tools to support lead conversion, commerce and marketing automation campaigns.
Email and Social Media Marketing Campaigns
Sent regular curated newsletters and customized html campaign emails that were used to engage the audience and drive guest to register for worldwide retreats.
Search Engine Optimization
Undertook key-wording, meta tagging, linking posts and pages internally and externally on Master Chia's site to organically support the optimization of his highly ranked and visited site.
Video Production and Editing Services
Shot and edited videos of Master Chia for the web to promote his teachings and events in Thailand and around the world that were repurposed for email and social campaigns.